Crafting Excellence: Behind our exclusive 'Royal Cocoa' Chocolate Creation
October 23, 2023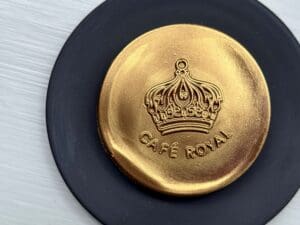 There's something inherently joyful about chocolate – it's the sweet escape one craves and a delightful indulgence that promises happiness in every bite.
The Hotel Café Royal x Valrhona chocolate collaboration is much more than just a chocolate; it's an immersive journey through a spectrum of flavours and textures and our bespoke chocolate can only be experienced right here in the heart of London as an exclusive guest of Hotel Café Royal.
The Hotel Café Royal Touch
Our bespoke Royal Cocoa chocolate is crafted using sustainably sourced blend of 40% Peruvian and 60% Madagascan cocoa. Executive Chef Eliano Crespi and Executive Pastry Chef Loic Carbonnet worked closely alongside Managing Director Guillaume Marly to create an expertly fashioned bespoke chocolate that symbolises Hotel Café Royals opulence and luxury.
The Ultimate Culinary Collaboration
Before settling on a chocolate blend, a selection of aromatic profiling took place to offer a large creation palette for the team to trial and test. The team at Valhrona carefully curated a mix of the best ingredients to balance the Hotel Café Royal teams' vision and story before settling on the marriage of two terroirs; Peru and Madagascar.
The 'Royal' Cocoa Creation
The team have expertly fashioned a chocolate with a delightful bouquet of fruity aromas complemented by hints of caramel and honey, resulting in a luxuriously creamy texture. From the initial hints of dark, velvety cocoa to the intricate balance of sweetness and bitterness, this chocolate offers a nuanced tasting experience that transcends ordinary confections.
In the world of luxury and fine dining, the Hotel Café Royal x Valrhona collaboration is a remarkable addition. It's a celebration of the love for chocolate and the passion for culinary excellence. As these two titans of their respective fields come together, we can expect nothing less than a symphony of flavour, texture, and artistry. So, whether you're a loyal patron of the Hotel Café Royal or a passionate chocolate enthusiast, this collaboration is an opportunity to savor the extraordinary in the heart of London's culinary scene.