Cakes & Bubbles Turns 5: Join the Celebration at Hotel Café Royal
October 12, 2023
Welcome to the Sweetest Celebration of the Year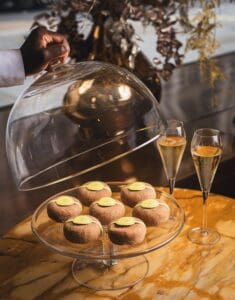 At Hotel Café Royal, we believe that life's sweetest moments are meant to be celebrated in style, and what better way to do that than by indulging in delectable cheesecakes at Cakes & Bubbles? Join us on November 10th at 6pm for an evening to remember as we celebrate our 5th anniversary in grand fashion!
A Night of Sweet Memories – We're giving away 100 Cheesecakes!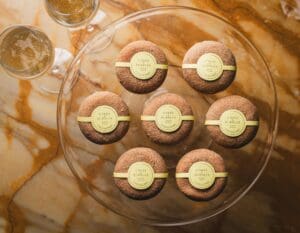 Five years of pure indulgence calls for a spectacular celebration, that's why we're giving away 100 of our famous Cakes & Bubbles heavenly cheesecakes on our anniversary night. Expertly crafted by the 'World's Best Pastry Chef, Albert Adrià', our cheesecakes are a true testament to the artistry of Cakes & Bubbles. Each cheesecake will also come with a raffle ticket, this will be your unique number for the grand prize draw! Be sure to arrive early, as cheesecakes will only be given to the first 100 customers!
The Grand Prize – Win a Dream Trip to Barcelona and An Exclusive Dining Experience at Enigma: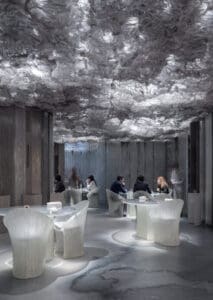 But that's not all – the icing on the cake, so to speak, is the chance to win an unforgettable trip to Barcelona including flights and accommodation! Picture yourself strolling along the vibrant streets of this enchanting city, savouring Spanish cuisine and exploring its rich culture. Along with the Barcelona trip, the lucky winner will also enjoy an exclusive dining experience at Enigma, one of Barcelona's finest gastronomic experiences created by the renowned chef Albert Adrià.
How to Enter?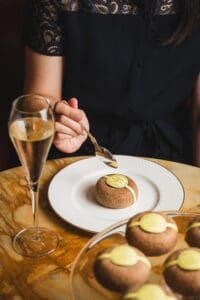 As you join us for the celebration on November 10th at 6pm, pick up one of our famous cheesecakes (be quick, it's the first 100 customers only – no boooking required!) and indulge. Each cheesecake will be numbered with a golden raffle ticket, simply take your raffle ticket up to the Cakes & Bubbles counter. The winner will then be announced on our official Cakes & Bubbles Instagram page within the following few weeks to reveal if you've won the grand prize! – Please be sure to keep your physical raffle ticket to redeem your prize.
The Big Reveal in November: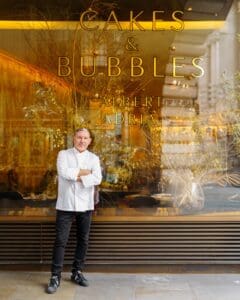 Make sure you've got your fingers crossed and your phone nearby, as on November 24th, we'll be selecting the lucky winner for the grand prize to Barcelona and the Enigma dining experience. The winner will be announced on our Cakes & Bubbles official Instagram page on the day. Be sure to follow @cakesandbubbleslondon and @HotelCafeRoyal on Instagram to see if you're the lucky winner! We can't wait to celebrate with you and see who'll be the lucky winner of our grand prize!
Save the date and get ready for a anniversary celebration like no other!
*Offer Terms And Conditions:
-A total of 100 Cakes & Bubbles cheesecakes will be given away on November 10th starting from 6pm.
-Each participant is eligible to receive only one cheesecake and is on a first come first serve basis – no booking required.
-The raffle tickets are exclusively for the giveaway of 100 cheesecakes.
-No digital versions of raffle tickets will be accepted for the grand prize redemption. Only the original golden raffle ticket is valid.
-One entry per person is allowed.
-Competition is only open to citizens of the United Kingdom.
-Participants must be 18 years or older to enter.
-The grand prize is valid for a period of 6 months only.
– The prize cannot be exchanged for monetary value.
-The grand prize includes one complimentary night stay at a hotel in Barcelona, a dining experience at Enigma, and return flights from the United Kingdom to Barcelona for 2 persons.
-Blackout dates apply for the grand prize.
-Once the dates and times for the hotel stay and flights are confirmed, they cannot be amended.
-Travel to and from the United Kingdom/ Barcelona is the sole responsibility of the grand prize winner.
-Competition is in no way sponsored, endorsed or administered by, or associated with, Instagram or Meta.
By participating in the Cakes & Bubbles Cheesecake Giveaway, you acknowledge and agree to abide by these terms and conditions. Failure to comply with these terms and conditions may result in disqualification from the competition. Cakes & Bubbles reserve the right to amend or cancel the giveaway at their discretion, and their decision shall be final.